Global QC market projected to grow to over $800 million by 2024
The Quantum Economic Development Consortium (QED-C) and Hyperion Research are projecting that the global quantum computing (QC) market – worth an estimated $320 million in 2020 – will grow at an anticipated 27% CAGR between 2020 and 2024, reaching approximately $830 million by 2024.
This estimate is based on surveys of 135 US-based quantum computing researchers, developers and suppliers across the academic, commercial and government sectors. Supplemental data and insights came from a companion effort that surveyed 115 current and potential quantum computing users in North America, Europe and the Asia/Pacific region on their expectations, schedules and budgets for the use of quantum computing in their existing and planned computational workloads.
Additional results from the study:
Market revenues for QC hardware delivered for either on-prem or public cloud-based use will comprise about 50% of the global QC market for the next three years, followed by QC professional services, QC application software and QC middleware (see figure below).
The three main algorithms driving QC usage will be optimization, physical simulation and machine learning, each near equally sharing overall market presence.
The top three QC user sectors cited as most promising in the next three years were the QC industry, government laboratories and defense, followed by a range of commercial users including those in the pharmaceutical, chemical, biosciences and financial sectors.
In the near-term, Noise Intermediate Scale Quantum (NISQ) computers will be the architecture of choice, followed by quantum annealers and digital simulators. Universal error-corrected gate model systems will garner only about 12% of overall QC market in the next few years.
QED-C commissioned and collaborated with Hyperion Research to develop this market forecast to help inform decision making for QC technology developers and suppliers, national-level QC-related policy makers, potential QC users in both the advanced computing and enterprise IT marketplace investors and commercial QC funding organizations. This is a baseline estimate, and Hyperion Research and QED-C are looking to provide periodic updates of their QC market forecast as events, information, or decision-making requirements dictate.
Contact: Celia Merzbacher, QED-C Deputy Director, celia.merzbacher@sri.com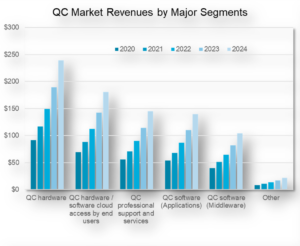 Source: Hyperion Research, 2020
About Quantum Economic Development Consortium: The Quantum Economic Development Consortium (QED-C) is an industry-driven consortium with the mission to support a robust U.S. QIST industry and related supply chain. QED-C, established by the 2018 National Quantum Initiative Act, includes nearly 100 U.S. corporations representing the overall quantum supply chain including component suppliers/manufacturers, software developers, and end users. (https://quantumconsortium.org/)
About Hyperion Research: Hyperion Research provides data-driven research, analysis and recommendations for technologies, applications, and markets in high performance computing and emerging technology areas, such as quantum computing, to help organizations worldwide make effective decisions and seize growth opportunities. Research includes market sizing and forecasting, share tracking, segmentation, technology and related trend analysis, and both user and vendor analysis for technical server technology used for traditional HPC, high performance data analysis, and AI workloads. Bob Sorensen (bsorensen@hyperionres.com) is Chief Analyst for Quantum Computing. (https://hyperionresearch.com/)