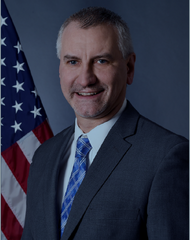 Dr. Michael J. Hayduk is the Deputy Director, Information Directorate, Air Force Research Laboratory, Rome, New York. The directorate's mission is to lead the development and integration of Air Force warfighting information technologies for Command, Control, Communications, Computers, Intelligence, and Cyber. Dr. Hayduk plays a key role in overseeing an annual budget of over $1.8 billion, leading the activities of over 1,200 scientists, engineers, administrative and support personnel. He is also responsible for coordinating AFRL's Quantum Information Science research portfolio spanning six technical directorates. Dr. Hayduk was instrumental in the formulation and stand-up of the Innovare Advancement Center which is the open innovation technology hub located just outside of the security perimeter of the Information Directorate. Dr. Hayduk continues to lead the development of strategic partnerships at Innovare.
Dr. Hayduk was the Chief of the Computing and Communications Division, Air Force Research Laboratory, Information Directorate, Rome, New York from 2011 to 2019. The division's mission is to lead the discovery, development and integration of affordable computing, networking and communications technologies for our air, space and cyberspace forces. Dr. Hayduk was responsible for defining, planning, budgeting, advocating, managing and directing the execution of the research program and leads all aspects of personnel management within the division.
Dr. Hayduk joined the Air Force through the Palace Knight educational program in 1991 and was assigned to Rome Laboratory. Upon completion of his graduate studies, he served as a research engineer where he developed ultrafast solid state pulsed lasers for optical communication systems. As a team leader Dr. Hayduk led the development of microwave photonic components and subsystems for use in radio frequency sensors. Dr. Hayduk became the acting Chief for the Electro-Optic Components Branch in 2005 in the AFRL Sensors Directorate which developed components and subsystems for advanced radio frequency and electro-optic AF sensor systems. In 2007 he became the Chief of the Emerging Computing Technology Branch in the AFRL Information Directorate which performs fundamental and exploratory research and development in nanocomputing, quantum computing, computational intelligence and optical computing for advanced computing architectures. Dr. Hayduk has published more than 50 journal and conference papers and holds one US patent.